Mariner Job Fair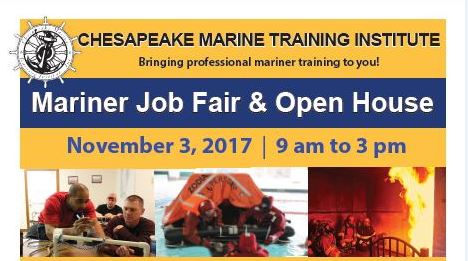 What:  Mariner Job Fair
When: November 3, 2017, 9am to 3pm
Where: CMTI in Hayes,VA
Click here to register for the job fair : Mariner Job Fair
Chesapeake Marine Training Institute will host a mariner job fair and open house November 3, 2017 from 9 a.m. to 3 p.m. at its Hayes campus located at 3566 George Washington Memorial Highway.
Professional maritime companies will be on site to meet and interview potential job candidates.
Among the mariners the companies are seeking include deckhands, wheelhouse tug operators, engineers, and tankermen.
Mariners of all license and credential levels are encouraged to attend. Mariners should bring multiple copies of their resume and credentials to provide to the companies.
Chesapeake Marine Training Institute staff and instructors will be available to work with job candidates on licensing and credentialing needs.
"This is our sixth job fair and we really value that we are able to connect our mariners with maritime professionals," said Amanda Symonds, President at Chesapeake Marine Training Institute. "We have worked so closely with local maritime companies for years and have fostered valuable relationships so when our mariners are ready to begin their job search or advance within their careers, we are able to help with job placement and that is really important to us because we not only want to teach our mariners valuable skills, want to see them succeed in their careers."
Maritime companies interested in attending as a vendor are welcome. Hiring managers should contact Chesapeake Marine Training Institute to sign up.
Chesapeake Marine Training Institute will provide table display space for companies to meet and greet job applicants, as well as private rooms to interview potential candidates. Space to attend the event as a professional maritime company is free, but limited and available on a first-come, first-served basis.
Chesapeake Marine Training Institute will have instructors and professionals from the industry available to discuss career opportunities.
Applicants and vendors attending the event from out of the area are eligible to use the Chesapeake Marine Training Institute rate at nearby hotels.
For more information contact Chesapeake Marine Training Institute directly at 800-642-CMTI.